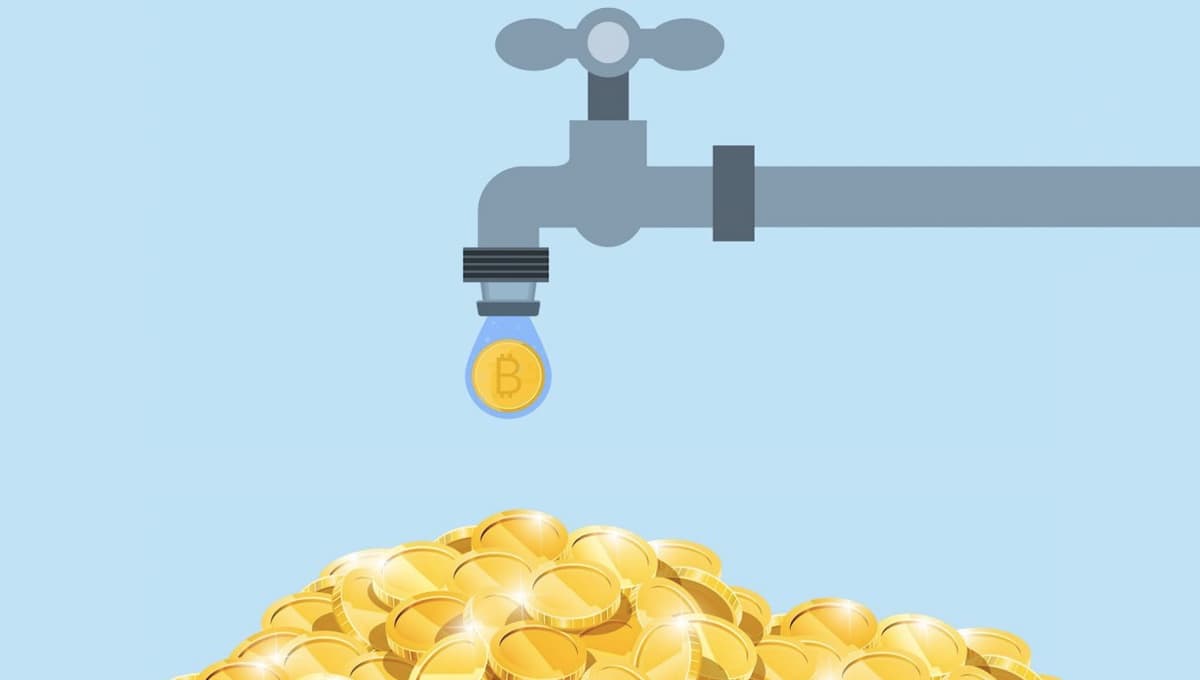 A Bitcoin faucet is a reward system in the form of a website or app that pays out rewards in satoshi. In return, visitors must complete a captcha or task as described on the website to claim. There are faucets that also pay out other cryptocurrencies.
The first Bitcoin faucet on the Internet was "The Bitcoin Faucet" and was developed in 2010 by Gavin Andresen. At the time, it yielded 5 bitcoins per person!
How does a Bitcoin faucet work?
Rewards are issued at predetermined times for completing simple tasks such as solving Captcha and playing games. Faucets usually give only a fraction of a Bitcoin, but the amount fluctuates with the value of the Bitcoin exchange rate. Some faucets also give randomly larger rewards. To reduce mining costs, faucets save these small individual payments in their own ledgers, which are then added to a larger payment sent to a user's Bitcoin address.
Because Bitcoin transactions are irreversible and faucets abound, they have become targets for hackers looking to steal the bitcoins.
What is the point of a crypto faucet?
Faucets can help introduce new people to Bitcoin or other Altcoin faucets. A majority of faucets provide information to new users and offer them some free coins. These coins they can "try before they buy," and experiment with test transactions before putting real money on the line. Since this whole experience is quite new and complicated for people, this is a beneficial way to promote digital currencies and attract new users.
Most faucet websites get a lot of visitors. Of course, it is not that difficult to get a large number of page views per day to a site if it is giving away free crypto money. If a website has other content or services to promote to Bitcoin users, especially new users, a faucet is a great way to introduce them to a brand name.
Making a good profit with a faucet by itself is a lot harder than just making a popular faucet, but it is still possible. There are a lot of these sites, so it's a very competitive market. To make enough money from advertising, covering the cost of the tokens you give away and hosting fees, it's almost impossible. Adding additional content to a Web site, or creating some sort of unique or interesting experience, is the only way to generate revenue for a faucet.
Referral System
Typically, almost all faucets have some sort of referral system whereby existing users refer those new ones and are rewarded with a pro rata share of new users' revenue from the faucet. Unlike illegal Ponzi scheme, revenue does not fall through to the top of the referral chain. The exact legal status of bitcoin faucets is unclear and may vary by jurisdiction, see legality of Bitcoin by country.
Earnings model
If you also want to create a Bitcoin faucet, then it is important to integrate a payment processor. The owner of the Bitcoin faucet sends some bitcoin to the faucet's cryptocurrency wallet. Based on the site's rules and rates, the visitor is paid in crypto coins.
Ads are the main source of revenue for faucets. Faucets try to get as many visitors to their site as possible by offering bitcoin for free. Some ad networks also pay directly in bitcoins. This means that faucets often have a low profit margin. At several faucets, you can also earn cryptocurrency with Altcoins mined in the background using the users' CPU.
So keep in mind that on these bitcoin faucet websites many ads are displayed on which visitors click so that the owner of the website earns from this, we recommend you to turn off your "Adblocker" in your browser. (Otherwise it does not work!, has to do with cookies)
Can I make my own Bitcoin faucet?
Yes indeed, there are a number of ways to make your own bitcoin faucet as well. Read the article "How to Make a Bitcoin Faucet" here.